AVS Corn Snakes Owners Guide
AVS Corn Snakes Comprehensive Owners Guide by Kathy Love & Bill Love

Each year, more corn snakes are bred in captivity than any other snake species. Their increasing popularity is largely credited to their rich colouring, easy handling size, and calm disposition. Corns usually will not bite, constrict, or defecate under mild stress like other snakes. From corn snake expert Bill Love and Kathy Love and AVS, the definitive source on reptile and amphibian care, comes this revised and updated version, with the most comprehensive information available on keeping and breeding corn snakes. This book satisfies the needs of both the novice and the seasoned veteran of "guttata culture", offering the latest on breeding, genetics, and the range and history of colour and pattern variations, as well as the basics of feeding and care.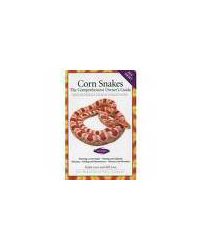 Product
RRP
Our Price
Amount
Add to basket
People who bought 'AVS Corn Snakes Owners Guide ' also bought...