Tetra Cichlid Sticks 30g
Staple foodsticks for all cichlids and other large ornamental fish. Tetra's unique extrusion process ensures that the sticks soften quickly, yet remain stable allowing fish to feed on them easily.

- The sticks float on the surface of the water and suit the fish's natural eating habits, due to their worm-like size and shape.

- The nutrient content meets Cichlids' increased requirements for animal proteins and ensures a naturally balanced nutrition, as in the wild.

- Promotes well-being, naturally intense colouring and growth.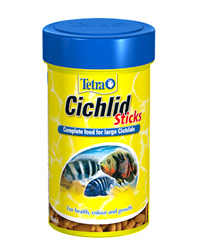 Product
RRP
Our Price
Amount
Add to basket
People who bought 'Tetra Cichlid Sticks 30g' also bought...