Lucky Reptile NEW SuperFog II - Humidifier
The Super Fog II is the next generation of the popular high-performance Super Fog humidifier.

Although cheaper than its predecessor, the new Super Fog II has many improved features. It's more compact dimensions make it easier to integrate into cabinets.

The fog performance has been increased and, with the flexible tube, you can direct the fog into the vivarium up to a height of up to 2m. Although the fogger is smaller in size, the water tank has an ample capacity of over 2L.

The Super Fog II is ideal for large vivaria or terrariums and using the separately available Multi Outlet it allows you to distribute the fog in several places within the tank or to several tanks. The fog output can be adjusted as necessary.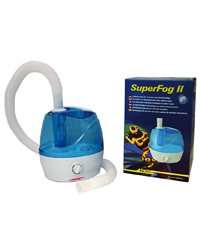 Product
RRP
Our Price
Amount
Add to basket
People who bought 'Lucky Reptile NEW SuperFog II - Humidifier ' also bought...
Customer Reviews for:- Lucky Reptile NEW SuperFog II - Humidifier
Overall Rating: 5 Stars

Wayne Thomas

26-11-2020
Verified Purchase
This is quite a large device and the tube into the Vivarium is over an inch wide. I had to drill a hole into the viv to allow the mist in. I managed to disguise the hole after and cover it with a grill to stop my snake going into the tube. The work was worth it. This device throws huge volumes of mist, enough for the largest viv. The water tank holds plenty of water. I have mine on a timer, coming on several times a day, rather than constantly. Iím really pleased with this device. Just what I needed.

Pros:
Huge amounts of mist

Cons:
Large device, large tube.