Decorative Leaf Litter Oak 1 Litre
Leaf litter is an amazing natural product for decorating your vivariums and providing cover and shelter mimicking the natural forest floor.

Small animals such as frogs will use it to hide in, and it is an awesome way to provide a more naturalistic element to may substrates in both dry and humid setups.

In bio-active set ups, leaf litter also provides shelter and food for custodians such as woodlice and springtails, and as it breaks down, it provides nutrients for live plants.

Our leaf litter is collected and carefully heat treated to provide a clean long lasting product that both looks good and is safe for use.

Ideal for any forest dwelling animals, as well as a range of spiders, frogs, snakes, lizards and other inverts, or just to give your enclosures that extra special touch!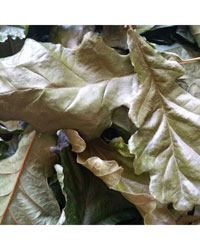 Product
RRP
Our Price
Amount
Add to basket
People who bought 'Decorative Leaf Litter Oak 1 Litre' also bought...
Customer Reviews for:- Decorative Leaf Litter Oak 1 Litre
Overall Rating: 5 Stars

Lorraine Dawkins

23-08-2018
Verified Purchase
Excellent