ProRep Wooden Hide Natural Medium
ProRep range of natural hides offer a great alternative to plastic and resin hides.

Offering high quality at a great price, they will enhance any natural terrarium setup. They can also be filled with damp terrarium moss to create a humid hide.

Maximum length: 15cm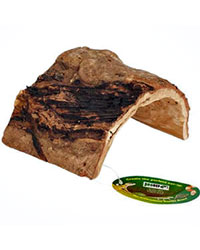 Product
RRP
Our Price
Amount
Add to basket
People who bought 'ProRep Wooden Hide Natural Medium' also bought...
Customer Reviews for:- ProRep Wooden Hide Natural Medium
Overall Rating: 4.7 Stars

Paul Darling

16-04-2016
Verified Purchase
Does the job.

Charles Paul Johnson

26-03-2016
Verified Purchase
As soon as it arrived I put the hide in my vivarium. My snake went under it after a few minutes exploring and loved it. Overall this is a great addition to my set up at little cost. I would recommend it to anyone with a snake set up.
I wish the colour had been a bit lighter to match my viv, and a base would make it less likely for my snake to tip it over.

Pros:
Well made
Good shape
Doesnt take too much room up

Cons:
Colour was darker than I hoped it might be
Rather it had a base to it
John Adams

14-11-2015
Verified Purchase
My snake spends most of his time spent curled up inside the hide.
As its a natural product it goes nicely with the rest of my natural setup.
Personally I would recommend these hides over the fake plastic ones that are available.

Pros:
Good size
Made of strong material
Low price

Cons:
Colour was slightly different to picture