Exo Terra Reptile Cave X Large
A proper hiding area is an often-underestimated feature of a natural terrarium. Without a safe spot to hide and sleep reptiles and amphibians will easily develop stress that will effect their activity and appetite. Hide-outs often also provide a shelter or a cooler area in the terrarium.

-Natural look, integrates in any type of terrarium
-Easy to clean
-Provides a secure hiding place
-Prevents stress
-Very stable, not easily tipped over by larger reptiles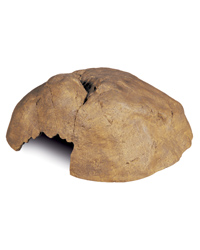 Product
RRP
Our Price
Amount
Add to basket
People who bought 'Exo Terra Reptile Cave X Large' also bought...
Customer Reviews for:- Exo Terra Reptile Cave X Large
Overall Rating: 4.8 Stars

Courtney Shannon

05-02-2020
Verified Purchase
Lydia Mountford

29-03-2019
Verified Purchase
As described nice and big.

Pros:
Nice and big

Cons:
None
Mrs S Condon

06-04-2017
Verified Purchase
I love these caves and the snakes love them you can tell

Mel Bedford

06-12-2016
Verified Purchase
Excellent hide. Very big and good value for money. All my lot love them even the 5 and a half ft boas who just about fit in them.

Pros:
Good value and big.