Exo Terra Reptile Cave Small
A proper hiding area is an often-underestimated feature of a natural terrarium. Without a safe spot to hide and sleep reptiles and amphibians will easily develop stress that will effect their activity and appetite. Hide-outs often also provide a shelter or a cooler area in the terrarium.

-Natural look, integrates in any type of terrarium
-Easy to clean
-Provides a secure hiding place
-Prevents stress
-Very stable, not easily tipped over by larger reptiles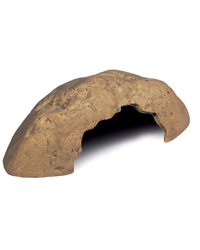 Product
RRP
Our Price
Amount
Add to basket
People who bought 'Exo Terra Reptile Cave Small' also bought...
Customer Reviews for:- Exo Terra Reptile Cave Small
Overall Rating: 4.7 Stars

Jane Spence

06-01-2021
Verified Purchase
This has been used by my snail. I prefer the coconut to this which he prefers, this is a bit large for his house.

Steven Gibson

24-09-2020
Verified Purchase
Product as described

Gill Holden

27-10-2019
Verified Purchase
My leopard geckos love these hides. Good value, easy to clean and look good. Definitely recommend.