Vetark Nutrobal 100g
A vitamin/mineral supplement specifically formulated as a high calcium "balancer " for insectivorous reptiles and birds, to assist in correcting the inadequate levels of calcium present in live insectivorous foods such as crickets and mealworms.

The Calcium:Phosphorus ratio is very important in ensuring healthy bone growth, and reproductive function and this potent supplement with a Ca:P ratio of 46:1 is extremely valuable in correcting deficient diets.

It is particularly important for those species fed primarily on insects such as mealworms or locusts, used as a dusting powder. Some species fed mainly lean meat also benefit, as will growing chelonia which need calcium for their shells and the larger lizards and crocodilia for their normal bone development. Large lizards and chelonia also benefit from ACE-High.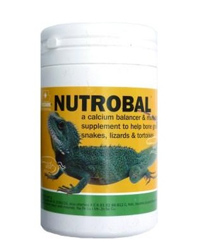 Product
RRP
Our Price
Amount
Add to basket
People who bought 'Vetark Nutrobal 100g' also bought...
Customer Reviews for:- Vetark Nutrobal 100g
Overall Rating: 5 Stars

Julie Weeks

18-10-2020
Verified Purchase
Excellent. My vet recommended this product for my tortoise.

Amy Thorne

13-08-2020
Verified Purchase
Good all round supplement

Michaela Chivers

22-07-2018
Verified Purchase
Brilliant, perfect fordusting amy geckos food

Pros:
Great product

Cons:
None
Hayley Lodge

22-11-2017
Verified Purchase
Good price

Mark Demeny

20-10-2017
Verified Purchase
Fast delivery, great packaging, quality product.