ProRep Corn Cob Granules 15 Kg
ProRep Corn Cob granules can be used for many species of lizards and snakes originating from arid habitats.

It is made from the centre of corn on the cob ground into a free-flowing granular substrate, which should not be used wet.

Care should be taken to avoid significant ingestion of this product.

Directions:
Spread the substrate evenly over the bottom of the enclosure to a depth of at least 1-2" (2.5-5cm).

Spot-clean daily and completely replace every two or three weeks, or more frequently if it becomes heavily soiled or wet.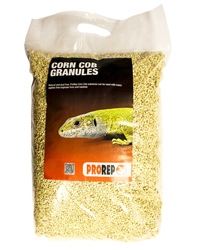 Product
RRP
Our Price
Amount
Add to basket
People who bought 'ProRep Corn Cob Granules 15 Kg' also bought...