HabiStat Repti-Turf 20 Kg
Repti-Turf is an absorbent substrate for the larger animal.

Made from compressed grasses, it is absorbent, fresh smelling and digestible.

It is ideal for the efficient management of herbivorous reptiles, like tortoises and some others predisposed to producing large volumes of waste.

It is a sustainable and bio-degradable product.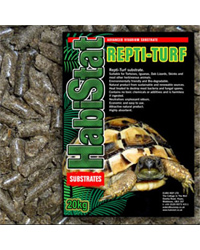 Product
RRP
Our Price
Amount
Add to basket
People who bought 'HabiStat Repti-Turf 20 Kg' also bought...
Customer Reviews for:- HabiStat Repti-Turf 20 Kg
Overall Rating: 4.7 Stars

Chris Day

31-07-2020
Verified Purchase

Pros:
Great product

Cons:
Slow order time
HEIDI HOBDEN

04-07-2020
Verified Purchase
Good price and good service, much better than previous substrate I've used

kevin rowlands

06-06-2020
Verified Purchase
Good product

Pros:
Fresh smelling easy to spot clean

Cons:
A little heavy compared to my beech chippings.
Richard Grange

12-01-2019
Verified Purchase
Great for my purposes. Rept-turf here is one of many substrates used to provide as many changes to his environment as possible while he lives indoors. Also serves as a landing mat for when he falls when climbing because it's quite soft where soil might be too solid.
As soon as spring and warmer weather arrives he will be outside in a purpose built enclosure where this product would not be suitable.


Cons:
Gets dusty when its disturbed.
Shaun Briant

08-11-2018
Verified Purchase
Great product, this is the first time I used this supplier and this brand, this type of repti-turf has a smaller pellet that suits our needs better than the previous product.

Pros:
Great product and service from Blue Lizard Reptiles

Cons:
Rubbish courier company, one of the bags had split and taped up, not sure how much was lost, the driver had clearly been throwing his wagon around as all the packages were all over the place.
ROXANNE FORD

18-08-2018
Verified Purchase
perfect for my tortoises big enough bag to do a 4ft viv arrived very quickly and would order again

Pros:
arrived quick so much of it

Cons:
none
Adrian Hayter

21-09-2017
Verified Purchase
Was as described and arrived without hassle within timescale. Would buy again from this supplier