Komodo Aspen Bedding Terrain 6 Litres
Aspen Bedding is the professionals' choice for many species of reptile including Corn Snakes, Kingsnakes, Milk Snakes, Sand Boas and other burrowing species, Blue Tongues Skinks and many Monitor Lizards.

It may not be suitable for Rainforest species.

Cover the floor of the vivarium with Aspen Bedding Terrain, usually at least twice the depth of the animal's body.

Spot clean daily, replacing soiled material with fresh Aspen.

Change all bedding monthly or as required.

Note: Soiled bedding should always be disposed of in a proper hygienic fashion.

Aspen is totally biodegradable.

Many people consider the choice of substrate to be simply aesthetic. However, the substrate has a greater effect than just decoration, and provides a microclimate environment that can affect the health of the inhabitants.

Although choosing the substrate is partially a matter of the owner's personal preferences, it must also take into account the needs of the occupants.

Burrowing species for example will prefer both a depth of substrate and a type that they can easily tunnel through.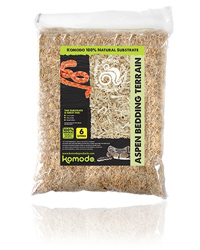 Product
RRP
Our Price
Amount
Add to basket
People who bought 'Komodo Aspen Bedding Terrain 6 Litres' also bought...