Lucky Reptile Coconut Bark Chips 5 Litres
Lucky Reptile Coconut Bark Substrate is a natural substrate which is great as a humidity increasing substrate for all kinds of humidity loving reptiles, amphibians and tortoises. It comes as a compressed block which should be placed in warm water to allow it to swell to its intended composition.

Lucky Reptile Coconut substrate is a very natural substrate for your reptile, amphibian or tortoise and is free from chemicals and pesticides. It will add a natural appearance to your set up and stay clean for a long time which will help keep your reptile happy and encourage natural digging behaviours.

Regular spot cleans of the substrate will mean a complete change is required less often.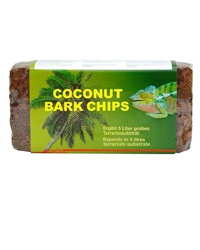 Product
RRP
Our Price
Amount
Add to basket
People who bought 'Lucky Reptile Coconut Bark Chips 5 Litres' also bought...