Blue Lizard Basic Snake Starter Kit
This is a great starter kit for a corn/king/rat snake at a special Blue Lizard reptiles price.

-Exo Terra Large Flat Faunarium
-Habistat 11x11inch heatmat
-Microclimate MiniStat100 Thermostat
-Komodo Critter Bowl
-Aspen Bedding
-2 Lucky Reptile Coconut Hides

This kit contains what you need for a baby snake, and allows you to upgrade and add decor at a later date.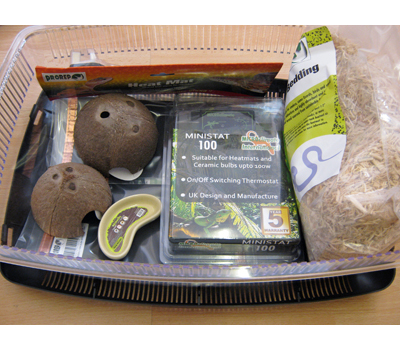 Product
RRP
Our Price
Amount
Add to basket
People who bought 'Blue Lizard Basic Snake Starter Kit ' also bought...
Customer Reviews for:- Blue Lizard Basic Snake Starter Kit
Overall Rating: 4.5 Stars

Elisa Vale

11-07-2018
Verified Purchase
Iím really happy with my snake starter kit, the plastic tank is bigger than I expected which is great and comes with all the essential bits you need for your pet including a thermostat (which I know a lot of starter kits donít include) really well packaged nothing was damaged which is great and quick delivery also the price is great for everything you get. Love this website got great prices on everything as Iím always comparing on different sites and I love the wide range of products on offer.

Pros:
Really well packaged and quick delivery
Kristian Reeves

17-10-2017
Verified Purchase
Itís a nice little starter tank for those with limited space that should last the first year of the snakes life. Itís great value for money and comes with almost everything you need for complete set up. Definitely secure with plenty of ventilation, only thing missing is a thermometer so you can accurately gauge the temperature.
Blue Lizard Reptiles reply: The kit does however include a thermostat to regulate the temperature of the heat mat, which is extremely important so it cannot overheat, and why we include a thermostat in all of our snake starter kits.

Pros:
Good value, starter set up

Cons:
No thermometer