Blue Lizard Leopard Gecko Starter Kit
This is the perfect kit for a Leopard Gecko at a special Blue Lizard reptiles price.

- Viv ecotic repti home small
-Habistat 11x11inch heatmat
-Habistat mat stat
-Exo Terra Water Bowl small
-Mealworm Dish
-2 x Exo Terra Reptile cave small

Use with paper as a substrate for baby leos, and then add your own choice of substrate and decor at a later date.

This price cannot be matched on any other website.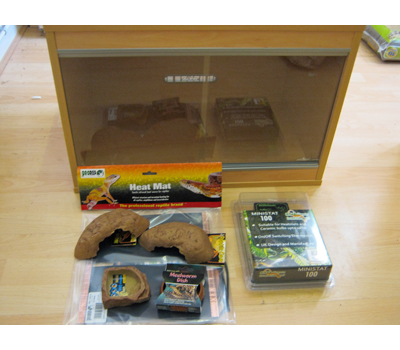 Product
RRP
Our Price
Amount
Add to basket
People who bought 'Blue Lizard Leopard Gecko Starter Kit ' also bought...
Customer Reviews for:- Blue Lizard Leopard Gecko Starter Kit
Overall Rating: 5 Stars

Ben Wigley

16-02-2018
Verified Purchase
Good starter setup with everything you need in one kit. All came well packaged and easy to assemble. The items that come with the vivarium are all good quality items.

Pros:
convenient and all you need in one place
Gillian Hiscock

26-12-2016
Verified Purchase
Great gift, the started pack should include a light if not included it should be recommended.

Reply from Blue Lizard Reptiles - Leopard geckos are nocturnal animals and therefore do not need lighting, which is why it is not included in the kit. It is available separately though if you want to add lighting for viewing purposes.