Blue Lizard Tortoise Starter Kit Deluxe Vivarium
An excellent starter kit with vivarium, and everything your tortoise needs to be healthy.

Kit includes:

- Standard 4x2ft Vivarium
- Pro Rep Basking Bulb 100w
- Exo Terra Small Glow Light
- Arcadia 36inch 10% Desert UV Tube
- Arcadia 25w-30w UV Tube Controller
- Exo Terra Dish Medium
- Zoo Med Habba Hut Medium
- Exo Terra Calcium Supplement 40g
- Exo Terra Multi Vitamin supplement 30g
- Cuttlefish Bone

This kit provides space, deep natural substrate, and the best combined heating and lighting. Calcium, vitamins and cuttlefish will keep your tortoise nice and healthy.

Cabinet available Separately.

We would recommend adding a dimming thermostat to this setup for accurate control of temperature.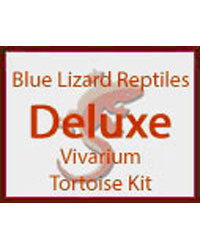 Product
RRP
Our Price
Amount
Add to basket