Blue Lizard Tortoise Starter Kit Standard Vivarium
An excellent starter kit with vivarium, and everything your tortoise needs to be healthy.

Kit includes:

- Viv Exotic ReptiHome Large
- Pro Rep Basking Bulb 100w
- Exo Terra Small Glow Light
- Arcadia 36inch 10% Desert UV Tube
- Arcadia 25w-30w UV Tube Controller
- Pro Rep Tortoise Life 10 Litres
- Exo Terra Dish Medium
- Exo Terra Calcium Supplement 40g
- Cuttlefish Bone

This kit provides space, natural substrate, and all heating and lighting. Calcium and cuttlefish will keep your tortoise nice and healthy.

We would recommend adding a dimming thermostat to this setup for accurate control of temperature.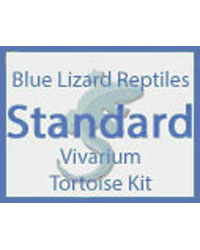 Product
RRP
Our Price
Amount
Add to basket