Blue Lizard Tortoise Starter Kit Deluxe Vivexotic Table
An excellent starter kit with extended Vivexotic table, Vivexotic Stands built in hide, and everything your tortoise needs to be healthy.

Kit includes:

- Vivexotic Tortoise Table (90x45x21.5cm)
- Vivexotic Table Extension
- Vivexotic Tortoise Table Legs (x2)
- Exo Terra Medium Glow Light
- Exo Terra 125W Mercury Vapour Bulb
- Pro Rep Tortoise Life (2 x 10 litre)
- Exo Terra Medium Water Dish
- Zoo Med Habba Hut Medium
- Mopani Wood Medium
- Exo Terra Calcium Supplement 40g
- Exo Terra Multi Vitamin supplement 30g
- Cuttlefish Bone

This kit provides space, ventilation, deep natural substrate, and the best combined heating and lighting. Calcium, vitamins and cuttlefish will keep your tortoise nice and healthy. Décor will keep your tortoise stimulated, and a slate tile keeps beaks and nails in trim.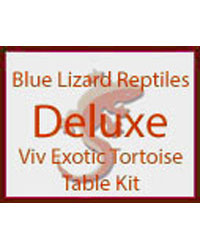 Product
RRP
Our Price
Amount
Add to basket