White Python LED Light 3 foot White
The WhitePython Daylight White LEDs offer a modern approach to lighting your reptile's terrarium. Utilizing minimum energy, these innovative and modular lights provide a bright daylight effect which is suitable for all reptiles.

Unlike other lighting systems, the LED modular systems can be installed in a matter of seconds. With its simple magnetic tape fixing, you can position the lights in the desired area without the need for any screws or fixings. What's more, with its innovative auxillary fittings, there is no need for unwiring plugs to poke the leads through the back of the terrarium.

Each led strip is extendable and interchangeable with other colours for various lighting effects. For a more vibrant day time colour you can combine the Daylight White with the Moonlight Blue. Alternatively, you can combine with the Nightlight Red for a warmer day light effect.

Important: Does not emit UVA or UVB.

Key Benefits:

- Energy efficient, only 3.6 Watts per strip.
- Quick and simple installation
- Ultra long life - 50,000 hours of light
- 10 x longer life than fluorescent lights
- 3 year warranty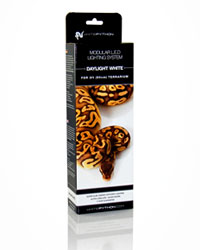 Product
RRP
Our Price
Amount
Add to basket
People who bought 'White Python LED Light 3 foot White' also bought...
Customer Reviews for:- White Python LED Light 3 foot White
Overall Rating: 4.5 Stars

Peter Coleman

23-02-2018
Verified Purchase
So easy to fit.

Pros:
Nice bright light.

Cons:
None.
Emma Woolman

23-03-2017
Verified Purchase
Very bright LED lights! I like that they are interchangeable- I have the the 3 white from the kit and a green in my 4ft viv to provide a nice 'forest edge' effect and it really works. Looks brilliant. Would recommend.
That said, one piece of important advice:
The first thing you should do when you get these is take out the adhesive magnetic strips and bin them or use them for something else around the house. Buy the metal clips that are made for attaching these and use them instead. The magnetic strips' adhesive lasts about a day in a heated viv then falls down and becomes a dangerous sticky trap for your reptile.
Luckily I installed mine before the python got here and learned this lesson without any accidents.

Pros:
Looks great, easy to install.

Cons:
Adhesive doesn't hold and can be dangerous- buy the metal fasteners instead.