Arcadia D3 UV Basking Lamp 100W
The D3 UV Basking lamp is a high performance lamp providing UVB, UVA visible light and heat from a single lamp. Designed as a basking lamp for larger vivaria in which the reptile has sufficient room to move into and out of the basking area to regulate its temperature.

- Important for reptiles development and health
- Aids the synthesis of Vitamin D3
- Helps prevent metabolic bone disease
- Stimulates reproduction
- Provides UVB, UVA visible light & Infrared (heat) energy from a single lamp
- 50 degree beam angle for wide basking area
- Average life 6,000 hours
- No external ballast required
- 1 year guarantee
- Includes detailed instructions sheet

Standard E27 screw fitting bulb.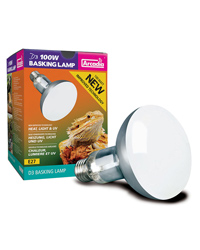 Product
RRP
Our Price
Amount
Add to basket
People who bought 'Arcadia D3 UV Basking Lamp 100W' also bought...
Customer Reviews for:- Arcadia D3 UV Basking Lamp 100W
Overall Rating: 5 Stars

Hollie Bradley

23-04-2020
Verified Purchase
We bought this Lamp over 2 Years ago for our Tortoise, and we've only now been forced to replace it with another. We've never had so much of a Flicker, it has always worked consistently. It doesn't get too hot either, so I don't need to worry about things in his House getting too close. I have to say, I'm thoroughly impressed with the Purchase and the 12 Month Guarantee that comes with it.
One of the features I learnt from Arcadia themselves, is that these lamps are fitted with a safety cutout, they will not re-strike for 10 mins after being turned off. Has Safety in mind, and especially works if you knock the Bulb and Fitting in accident.
Steven Hardy

26-10-2019
Verified Purchase
Been using these for years now. Never had an issue, but there is a 12 month warranty if you do. My tortoieses thrive with this bulb

Pros:
All in one bulb
12 month warranty

Cons:
none
Lewis Davis

01-07-2019
Verified Purchase
Great bulbs and a great price. Very reliable, been using these for years and find them great. Ideal for my tortoise and Chameleon.