Arcadia Vivarium Canopy Luminaire 11W 318x130mm
- Supplied with Arcadia High Performance Lamps
- D3 Reptile Compact
- Designed to attach above mesh
- Provides optimal levels of UVA / UVB
- Sturdy black aluminum housing
- High performance aluminium reflector
- Waterproof (IP67) so can be used in conjunction with misting and rain systems
- On/off switch on flex

A revolutionary new high performance D3 Reptile Compact Lamp and Vivarium Canopy from Arcadia, that powers through mesh! This product offers a significant increase in both visible light and UV output compared with T8 lamps of similar length.

Typically using the Arcadia Canopy will not only mean a brighter, easier to view enclosure, but better animal colours, feeding response and animals that are more willing to breed. These units are IP67/waterproof and are totally safe to be used with all commercial mister and fogging units. The sleek black design will look great in every household.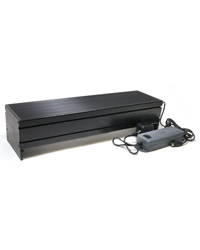 Product
RRP
Our Price
Amount
Add to basket
People who bought 'Arcadia Vivarium Canopy Luminaire 11W 318x130mm' also bought...