Zoo Med ReptiSun T5 HO Terrarium Hood 100 cm
Zoo Med ReptiSun T5 HO Terrarium Hood. For use with ReptiSun 5.0 T5 High Output or ReptiSun 10.0 T5 High Output bulbs.

Maxiumum light & UVB output.

UVB: Reptiles need UVB for vitamin D production and calcium metabolism. Without UVB, reptiles can develop Metabolic Bone Disease in 6 months or less. UVB along with proper temperatures, will enable your reptiles to make vitamin D and process calcium from their diet.

UVA: Reptiles and amphibians can see things that humans can't. UVA is part of the rainbow of colors that reptiles can see. UVA helps to increase activity levels, appetite, and reproductive behaviors. Without UVA, they are colorblind!

ReptiSun T5 HO lamp (not included): The strongest ReptiSun lamp available: 2X stronger than T8 lamps.

T5 HO Energy efficient Electronic Ballast (inside) for rapid start and maximum lamp performance.

Highly polished curved reflector for increased lamp efficiency.

Use with 1x 39W 86cm T5 HO tube.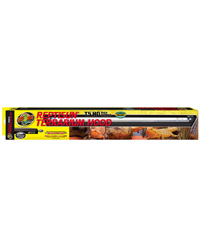 Product
RRP
Our Price
Amount
Add to basket
People who bought 'Zoo Med ReptiSun T5 HO Terrarium Hood 100 cm' also bought...