Exo Terra Glow Light Medium 21cm
The Exo Terra Glow Light gives you the versatility of placing heat and/or light sources on your terrarium where needed.

The device is sturdily constructed, with a metal reflector, heat resistant ceramic socket, and a spring-loaded swivel clamp.

It can be easily turned off and on by the switch, mounted on the extra long power cord.

The inside of the reflector is coated with a highly reflective luminous coating that continues to glow long after the lamp is turned off. This allows diurnal reptiles and amphibians to retreat in their night burrow or hiding without stress.

A moon-like glow enables nocturnal reptiles and amphibians to see properly without disturbing their night cycle. It is also ideal to monitor your animals during night time, without switching on the lights which can cause stress and disorientation.

The coating reflects the otherwise wasted light rays and stores the light energy during daytime and slowly releases it at night, which makes this fixture more energy efficient then conventional fixtures.

No need to add an additional night bulb, unless used as a heating source.

One or more Exo Terra Glow Lights can be mounted on the rim of the terrarium or aquarium and directed to the basking area with the spring-loaded swivel clamp or it can be put on top of a metal screen cover in any desired location.

Available in 3 sizes: 14cm, 21cm, 25cm.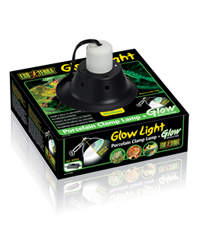 Product
RRP
Our Price
Amount
Add to basket
People who bought 'Exo Terra Glow Light Medium 21cm' also bought...
Customer Reviews for:- Exo Terra Glow Light Medium 21cm
Overall Rating: 4.5 Stars

Barry Hopkins

26-08-2017
Verified Purchase
Easy to set up perfect for the job

Andrew Simms

13-04-2014
Verified Purchase
It was a bit bigger than I was expecting but it does the job well and has a nice finish to it.

Pros:
Nice black finish

Cons:
Seems to attract dust to it.