Arcadia Wet Vivarium Controller 14 - 15W T8
A simple IP67 (water resistant) fluorescent lighting controller, design to easily add fluorescent lighting to wet vivariums.

- Lampholder can be siliconed or attached inside the vivarium
- Complies with the latest European Aquarium Lighting Standard
- 5 Year Guarantee
- Compatible with Arcadia reflector range

Supplied with waterproof ULTRA SEAL lamp leads, universal mounting brackets & starter.

Leads can be fed through fine mesh or grill before being re-attached.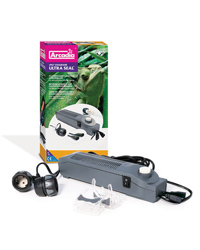 Product
RRP
Our Price
Amount
Add to basket