Arcadia Jungle Dawn LED Spot 40W ES
- Perfect to use increase visible light levels and alongside UVB emitting lamps.
- Solid metal heat sink will increase the product lifespan
- Energy efficient A++ rated
- 60 Degree Lenticular lens
- Can be used with timers.
- Designed in the U.S for optimum plant growth results.
- Can be used without modification in any country with an electrical supply between 110-240v

This internally ballasted super powerful LED 'spot' lamp is complete with active fan cooling and provides a MASSIVE PAR of over 2500 at 10cms from the unit.

This level of energy ensures that the Arcadia Reptile Jungle Dawn LED SPOT will provide stunning plant growth rates and high visible light levels to enclosures that have never been possible before.

It is suitable for planted vivaria of more than 3 feet high.

This product may also be used in shallower enclosures for high light level species of plant and of course over Zoological exhibits.

This impressive Full spectrum LED spot lamp uses cutting edge science and ever improving technology to generate explosive plant growth rates in larger, deeper enclosures without any compromise to the full spectrum colour of light.

The 40W Arcadia Jungle Dawn Spot lamp uses all of the useful features of its shorter cousins, 6500k Kelvin full spectrum colour, E27 screw fitting, high CRI, can be used anywhere in the world, internal ballast, 60 degree lenticular lens and has active fan cooling.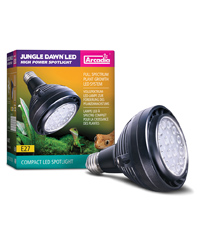 Product
RRP
Our Price
Amount
Add to basket