HabiStat Temperature Thermostat 300W White
The Temperature Thermostat is an on/ off switching device, that can be used with a variety of heaters.

It has an accurate dial calibrated in both Farenheit and Celcius.

Ideal for controlling heat mats, and other low powered heaters up a maximum load of 300 watts.

One of the best selling thermostats in Europe.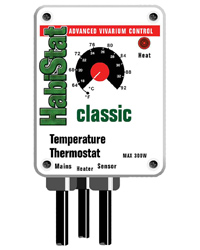 Product
RRP
Our Price
Amount
Add to basket
Customers who bought "HabiStat Temperature Thermostat" also bought...