Microclimate Ministat 300
An On / Off thermostat that works by turning on the heat when the temperature is low and turning it off when the desired level is reached.

Basic on / off thermostat designed specially for heat mats

For control of up to 300 watts of heat mat/s

Temperature control range 19 - 35 C

Size 75 x 52 x 27mm with 1m long cables and fitted with a plug, socket and sensor.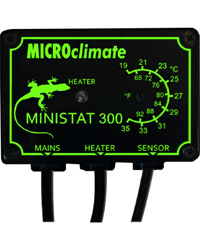 Product
RRP
Our Price
Amount
Add to basket
People who bought 'Microclimate Ministat 300' also bought...