Lucky Reptile Thermo-Hygrometer Deluxe PRO
The Lucky Reptile Thermometer-Hygro Deluxe PRO has two temperature sensors and an external humidity sensor. This electronic thermo-hygrometer measures not only temperature and humidity but has several useful features.

It has an external sensor probe with which you can measure the temperature at two separate places inside your terrarium: directly at the device and at the sensor probe. This way you can control air temperature and the warmest spot (or another place) at once. The humidity is only measured at the device itself, therefore it should be installed inside the terrarium.

Another feature is the min/max memory function. The highest and lowest temperature and humidity inside a measurement period are saved by the device, giving you a good overview of the climate inside your terrarium at any time.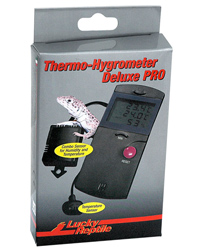 Product
RRP
Our Price
Amount
Add to basket
People who bought 'Lucky Reptile Thermo-Hygrometer Deluxe PRO ' also bought...