Zoo Med Repti Heat Cable 15W 350cm
Repti Heat Cable allows you to put the heat right where you need it. Wrap it around branches or cage furniture! Use it underneath the tank or in breeder racks! Flexible, water resistant, and durable Repti Heat Cable has numerous uses for the professional or the hobbyist.

Additional Information:
-Inexpensive, low wattage heaters
-Secondary heat source

All heat cables have a 1 metre cold run in that is unheate. This needs to be taken into account when choosing a product.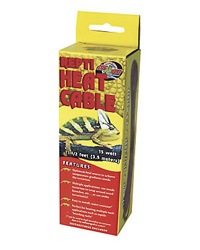 Product
RRP
Our Price
Amount
Add to basket
People who bought 'Zoo Med Repti Heat Cable 15W 350cm' also bought...