Vetark ReptoBoost 100g
REPTOBOOST is a probiotic combination of bacteria, enzymes, electrolytes and vitamins. Its high palatability means it can be added to the drinking water making its use simple for all species of reptiles. It is also ideal for use by stomach tube in rehydrating reptiles which have become dehydrated.

REPTOBOOST contains:
Lactobacillus which live for a short time in the gut, helping to stabilise the pH.
electrolytes to aid in maintaining adequate levels in reptiles with diarrhoea which lose electrolytes
and maltodextrins for sustained energy

It is only necessary for probiotics to live a short time to establish the right conditions. By their combined action the ingredients help to create and maintain slightly acidic conditions in the gut to provide the correct background for the reptiles own flora to re-stabilise.

The electrolytes and dextrose incorporated into REPTOBOOST also contribute in a major way.

A very important aspect is the use by the veterinary surgeon in reptiles which are under treatment with antibacterials where the normal flora may be unbalanced and a bloom of inappropriate bacteria may occur causing perhaps haemorrhagic enteritis.

For support of stressed reptiles use 4g (one scoop) per 100ml of drinking water.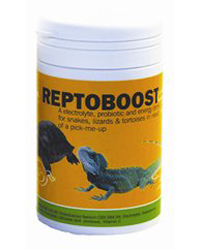 Product
RRP
Our Price
Amount
Add to basket
People who bought 'Vetark ReptoBoost 100g' also bought...
Customer Reviews for:- Vetark ReptoBoost 100g
Overall Rating: 5 Stars

Julie Weeks

28-02-2019
Verified Purchase
Excellent 'pick me up' for tortoise if a bit too slow after hibernation. Just follow the instructions on the pack. My vet advised me to use this product while bathing them in shallow warm'ish water 3 times a week, then twice a week until they were back to normal. Great and what a relief.

Pros:
Was advised by a reptile vet.

Cons:
None
Brenda Baldwin

21-10-2017
Verified Purchase
reliable pick me up for any animal whose appetite is depressed

Pros:
It works !

Cons:
Expensive !
Michelle Walkling

20-04-2017
Verified Purchase
Highly recommended by some more experienced bearded dragon owner friends and has massively helped a dehydration issue in one of my rescue dragons. Worth the money!