Vetark Critical Care Formula 150g
Critical care Formula is used in any and all species.

The product is a mixture of selected short chain maltodextrins (derived from corn starch) and a protein concentrate supplemented with amino acids. The protein source has been designed to match the constituents of whole egg protein.

The product is zero fibre so in herbivores it can be mixed with ground grass products as the animal recovers.

Each 100g contains 361 kcal of energy and 14.4g of protein, this aims to provide 4g protein/100kcal. Made up at 1:2, it provides 1.4kcal/ml. The osmolality is carefully regulated to ensure absorption, it should not be used more concentrated than this.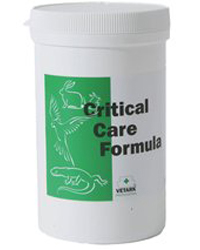 Product
RRP
Our Price
Amount
Add to basket
People who bought 'Vetark Critical Care Formula 150g' also bought...
Customer Reviews for:- Vetark Critical Care Formula 150g
Overall Rating: 5 Stars

Gavin Crooks

12-04-2017
Verified Purchase
My green anole lizards where not well, I phoned up Blue Lizard for advice and we discussed about my anoles old age and that this product could help them live a little longer, great advice. I purchased this item, maybe looking at it now I should have got this sooner! By the time the product arrived my male anole had sadly died (he was 5 and a half years old) So as soon as this product arrived I added it to the water as advised. My female anole got an extra week of life. Then sadly she passed away too, I feel this product did prolong her life a little as originally it was her that was sick first. I could tell my anoles where coming to their life end though as their movement had slowed down a lot quite rapidly. I would recommend this product highly though and the advice that Blue Reptiles gave me. Thank you for always being there....

Pros:
Big tub, well packaged, great advice from Blue Lizard, quick delivery,

Cons:
a little expensive but worth it for your reptiles living a good long life