Vetark Amprotect Handrinse 500ml
Amprotect handrinse is ideal in collections to prevent transmission between animals or between groups ideal when nursing sick animals, always look at these last anyway to avoid transmission essential in the incubator/brooder room useful for visitors

An alcohol based hand rinse, ideal where a high standard of hand hygiene is essential. A 3ml "dose" is rubbed well into visually clean hands until they are dry, which takes about 30 seconds.

Suitable for use in the surgery to avoid cracked hands from frequent washing, or in the field. Ideal for the petkeeper when going between vivaria. The owner/handler has been shown to be the major vector of disease transmission in collections.

Not suitable for use when handling amphibians since they can absorb chemicals through their skins.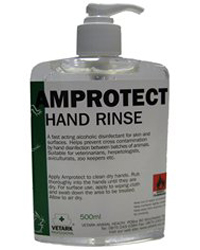 Product
RRP
Our Price
Amount
Add to basket
People who bought 'Vetark Amprotect Handrinse 500ml' also bought...