F919SC Degreaser and Cleaner 1 Litre
F919SC Degreaser cleaner is an alkaline heavy duty cleanser with an emulsifying action for removing heavy soiling, protein, fat and natural oil deposits from hard surfaces.

It also incorporates a wetting agent for effective coverage and a soil suspensions agent to facililtate easy removal.

This should be used on a weekly basis to remove 'films' harbouring a build up of micro organisms that detergent based cleaning products leave behind.

F919SC can be safely appiled as a wash, or by using a spray or high pressure equipment, and its low foaming action also makes it suitable for use in CIP systems or crate washes. It is effective in both hot and cold water, and is often used to replace hazardous caustic based products.

Dilution rates of 1 to 50 - 1 to 200.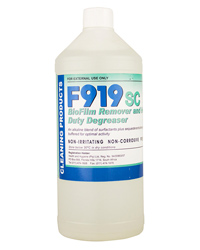 Product
RRP
Our Price
Amount
Add to basket
People who bought 'F919SC Degreaser and Cleaner 1 Litre' also bought...