HabiStat Bactericidal Cleaner Power Plus 500 ml
Power Plus for Heavy Soiling.

Ready to use Broad Spectrum Bactericidal Disinfectant.

Composition: A complex blend of highly active Quaternary Ammonium Compounds and Non-Ionic Surfactants diluted and ready to use.

Highly effective, odour-free, non-staining, non-tainting Detergent Sanitiser for the cleaning and disinfecting of all hard surfaces without abrasion as part of a regular cleaning and infection control program.

Effective against Bacteria, Viruses, Fungi, Algae, Yeast and Mould.

No release of vapours, fumes or odours that may aggravate the respiratory system.

Effective over a wide temperature range.

Non-Toxic, Non-Irritant, Non-Corrosive at recommended dilutions.

PH Neutral Safe for sanitation of surfaces in food preparation areas.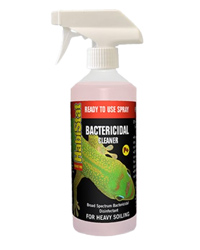 Product
RRP
Our Price
Amount
Add to basket
People who bought 'HabiStat Bactericidal Cleaner Power Plus 500 ml' also bought...