ProRep Live Plant Ficus pumila
Creeping Fig is the classic terrarium plant.

It grown as a vigorous creeper with small attachment roots on the stems allowing it to fix to rocks and wood.

If planted high up in the terrarium then it will trail down and can be used to form cascades of foliage.

It prefers a moist soil and high humidity with good light.

It will tolerate low light but this tends to make it grow very straggly and produce small leaves.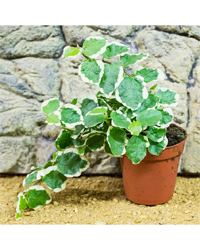 Product
RRP
Our Price
Amount
Add to basket
People who bought 'ProRep Live Plant Ficus pumila' also bought...
Customer Reviews for:- ProRep Live Plant Ficus pumila
Overall Rating: 4 Stars

Frances Watts

31-07-2020
Verified Purchase
Mine was not the variegated one shown here, but I actually prefer the solid colour version. I was delighted to find it for sale here in the UK and at a very reasonable price.
Excellent healthy plant with a lot of new growth on it.

Allan Ferguson

11-01-2020
Verified Purchase
The plant received was not as pictured which has the white variegated edging. What I received was the plain green variety.

Pros:
Healthy plant

Cons:
Not the variety pictured
Mathius Benfield

06-09-2018
Verified Purchase
Lovely plant so healthy and green

Pros:
Lovely plant

Cons:
None