Lucky Reptile Thermo Clean 150 Filter and Heater
The Lucky Reptile Thermo Clean is the perfect external filter for turtle tanks but can be used as well for all other types of aquariums.

The filter includes a 100W heater which ensures the reliable heating of the aquarium without the risk that turtles will play ping pong with the heater and damage it. This is a common and very serious problem as the risk of electrical shocks exists if the typical aquarium heater is damaged. The heater of the Thermo Clean is safely installed inside the filter itself and therefore well protected.

In addition the filter excels with high user-friendliness, low power consumption and high quietness of the pump. Three filter stages ensure effective cleaning and make the filter suitable for aquariums up to 150 litres. Filter media is included as well as plenty of accessories for easy installation inside aquariums and turtle tanks.

The Thermo Clean Filter is suitable for Lucky Reptile Turtle-Tarriums small, medium and large.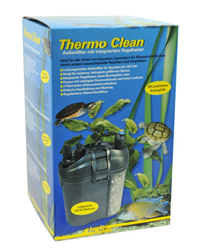 Product
RRP
Our Price
Amount
Add to basket
People who bought 'Lucky Reptile Thermo Clean 150 Filter and Heater ' also bought...