Exo Terra Turtle Cliff Medium
The Exo Terra Turtle Cliff is a waterfall, basking area and filter in one. Its state-of-the-art filtering system instantly transforms an aquatic terrarium setup into the ideal habitat while providing turtles and other semi-aquatic terrarium animals with the ideal basking or terrestrial area. The hidden filter provides clear, healthy water while the waterfall features creates the necessary water circulation and aeration, and its natural rock texture and colour allows it to integrate easily into any aquatic terrarium setup.

- Waterfall, basking area and filter in one
- Integrates easily into any aquatic terrarium setup
- Optimal hidden water filtration system
- Provides the necessary water circulation and aeration
- Ideal basking or terrestrial area for semi-aquatic animals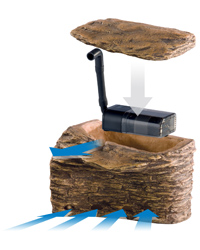 Product
RRP
Our Price
Amount
Add to basket
People who bought 'Exo Terra Turtle Cliff Medium' also bought...
Customer Reviews for:- Exo Terra Turtle Cliff Medium
Overall Rating: 3 Stars

Marion Worton

20-02-2021
Verified Purchase
My turtle struggles to climb onto it the surface is a bit too smooth so at the moment it's trial and error trying to make it easier for her to get up and the top slopes too much so she slides off when she shuffles around but she likes the waterfall so I will work with it till we get it right. I didn't by it for the pump just for basking and the water feature.

Pros:
Looks good

Cons:
Too smooth