Calci Worms Small Size - Approx 250
Calci-worms make a great treat for your reptiles. High in protein, fat and calcium they are great as part of a varied diet, or for getting underweight or ill animals to feed.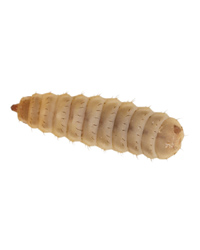 Product
RRP
Our Price
Amount
Add to basket
People who bought 'Calci Worms Small Size - Approx 250' also bought...
Customer Reviews for:- Calci Worms Small Size - Approx 250
Overall Rating: 4.6 Stars

Christopher McDonald

15-03-2023
Verified Purchase
Hi, first thing your Star Rating its a shame it only goes up to 5.my pets think yum yum, Thank you.

Pros:
My pe's thank you as they get to have two rather than one larger one.
Amy Fairshepherd

08-09-2021
Verified Purchase
Arrived on time and as described

Peter Oliver

29-04-2020
Verified Purchase
4 Stars

Mark Coutts

12-10-2019
Verified Purchase
I suppose I should start by saying what I use the calci-worms for&the answer is very little with the actual "worms". Unless I have baby tarantulas or other small spiders to feed I use the worms for it. But I grow the worms in black soldier flies&feed those to my carnivorous venus fly trap&sundew plants. I have not found a better product for that use.

Pros:
Worms good for feeding to small spiders&adult good for feeding to carnivorous plants

Cons:
Worms can be very small so hard to grow into adult black soldier flies
suzanne wishart

13-09-2019
Verified Purchase
Fantastic quality products beardie and African clawed frogs love them

Pros:
Always fantastic quality

Cons:
Non
Alan Conner

14-11-2018
Verified Purchase
excellent for my finches no fuss or smell the small ones are taken have not used the large so cant comment good to mix and match with meal worms

Vanessa Tipper

25-07-2018
Verified Purchase
I can only give 3 stars as despite the worms themselves being ok, one box had burst open in the packaging and they were everywhere... not impressed.
Blue Lizard Reptiles reply - We are so sorry that the box opened in transit, this is not usual at all, as the lids are usually very secure.

Pros:
Good value

Cons:
Packaging not adequate...maybe some tape to secure?
Nathan Hughes

11-03-2017
Verified Purchase
Arrived quick. Bugs were alive and plenty of substrate.

Stacey Cullen

01-02-2017
Verified Purchase
Arrived in great condition

Toni Iheagwaram

29-01-2017
Verified Purchase
Really good, thanks, all alive. Arrived quickly and were thriving