Silent Brown Crickets Medium - Size 4 - Approx 500
Silent Brown Crickets (Gryllus assimilis) are the larger species of brown cricket, and whilst not completely silent, they are the quietest species of cricket commercially available.

As with any insect, proper supplementation should be given prior to feeding to your reptile.

Silent Brown Crickets are sold in the following sizes:-

Micro - Size 1
Small - Size 2
Medium/Small - Size 3
Medium - Size 4
Standard - Size 5
Large
Extra Large

They are available in a variety of different quantities from small pre packs to large bulk bags.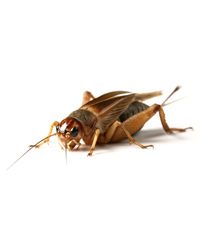 Product
RRP
Our Price
Amount
Add to basket
People who bought 'Silent Brown Crickets Medium - Size 4 - Approx 500' also bought...
Customer Reviews for:- Silent Brown Crickets Medium - Size 4 - Approx 500
Overall Rating: 4 Stars

Ivor Dodd

15-09-2022
Verified Purchase
I love being able to buy my love insects in bulk saves me a lot of time and money. Blue lizard reptiles is a fantastic reptile pet shop the owner and her staff are lovely always got time for a chat and advice. My crickets arrived safe and all in good condition
Lesley Moore

18-03-2022
Verified Purchase
All were happy and healthy. geckos toad and praying mantis say thank you.

Pros:
Arrived healthy

Cons:
Can not think of any
Deborah Hughes

05-03-2021
Verified Purchase
Well packaged fresh healthy crickets for my bearded dragon super quick delivery

Pros:
All pros

Cons:
No cons
Chris Moseley

27-12-2017
Verified Purchase
My crickets most of them was dead so won't be buying from here again. My dragons needed the 500 to last them as Xmas period but most the bag was dead so very disappointed.
Blue Lizard Reptiles reply - In cold weather they can go into a state of hibernation during transit, but left a room temp for around 4 hours they will all wake back up again, so very often they can appear dead on arrival, but in fact they are just asleep.
All of our livefood is sent out fresh, so if you have any problems just let us know and we will always replace them.

Pros:
Not good

Cons:
Not good