Giant Orange Woodlice
Giant Orange Woodlice (Porcellio sp.) are one of the larger species of isopod commonly used as terrarium custodians or 'clean-up crew' and live and breed well in bio-active set-ups.

As adults, they may attain a length of up to 18mm long. Giant Orange Woodlice are also useful as a livefood for many reptiles and amphibians and have the advantage of a high calcium content due to their calcarious exo-skeleton. If they are to be used as food, they are best served up in a smooth-sided dish in much the same way as mealworms or calci-worms. To thrive and become established in the terrarium, they need to be in a constantly damp and humid microclimate which normally means that they hide away for much of the time under branches, rocks or within the substrate. They are supplied in tubs as a starter culture of various sizes.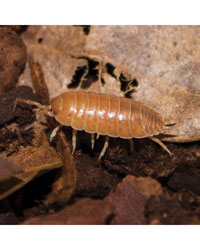 Product
RRP
Our Price
Amount
Add to basket
People who bought 'Giant Orange Woodlice ' also bought...
Customer Reviews for:- Giant Orange Woodlice
Overall Rating: 4.5 Stars

Helen Saunders

23-06-2019
Verified Purchase
Loved these. A little bigger than the grey woodlice, ideal for my set up.

Pros:
Good price

Cons:
None
Angie Walker

20-02-2019
Verified Purchase
On the whole they were ok