Springtails Pre-pack
Springtails are a useful food for people who breed many species of amphibians (particularly poison dart frogs) where the newly metamorphosed froglets are too small to take even micro crickets.

They also form an essential part of a bio-active forest terrarium where they help to clean up waste and detritus from the tank.

We now stock springtail colonies as well as a dedicated food for maintaining them. Typically people would have fed the colonies using fish food, boiled rice or mushrooms but the new ProRep granular Springtail food takes away all of the mess and hassle of these more traditional foods. It is simply sprinkled sparingly onto the surface of the culture media 2 or 3 times a week and is consumed completely, leaving no mess, waste or contamination.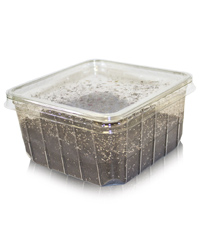 Product
RRP
Our Price
Amount
Add to basket
People who bought 'Springtails Pre-pack ' also bought...
Customer Reviews for:- Springtails Pre-pack
Overall Rating: 4.8 Stars

Laura McCarthy

27-07-2021
Verified Purchase
Good size packet of springtails...good value for money.

Corey Murphy

12-09-2020
Verified Purchase
All live

M Wright

27-05-2020
Verified Purchase
Well packaged, live arrival, Generous culture size, ideal addition for bioactive substrate, easy to maintain & will eventually multiply. Perfect clean up crew!
Toni Sinclair

23-12-2016
Verified Purchase
Good price, arrived alive and well