Curly Wing Flies Pre-pack
A culture of curly winged fruit flies.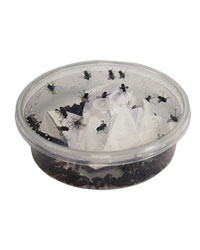 Product
RRP
Our Price
Amount
Add to basket
People who bought 'Curly Wing Flies Pre-pack ' also bought...
Customer Reviews for:- Curly Wing Flies Pre-pack
Overall Rating: 5 Stars

Tammy Schofield

09-07-2022
Verified Purchase
Many were already hatched upon receipt and continued to yield a good quantity. By far the best supply of curly winged flies that I have purchased across a range of suppliers. Hopefully this will continue

Pros:
Many flies actually hatched

Cons:
Transit time from being posted
Jann Colledge

10-09-2020
Verified Purchase
Very happy. Received quickly. Great culture of flies which my spiders very much enjoyed.

Natacha Pedersen

22-07-2020
Verified Purchase
Arrived the day after dispatch. It didn't have any hatched flies on arrival so I put it under a heat lamp for a few hours and next morning they started hatching. And they kept hatching! I've had issues with curly wings before but I'm pretty sure every single pupae hatched! Best to move hatched flies and provide jelly for longevity or they die in a day or two.

Pros:
Loads hatched

Cons:
None
Malcolm Neale

19-04-2018
Verified Purchase
Live food arrived promptly and in good condition. Have not been disappointed with any purchase from Blue Lizard Reptiles.