Black Crickets Large 25-30mm
Black crickets (Gryllus bimaculatus) are a hardy, cold tolerant cricket and grow to over 30mm in length. Six sizes are sold, and are packed in tubs and bulk.

Black crickets are sold as hatchlings (3mm), firsts (5mm), seconds (6-8mm), thirds (8-10mm), fourths (12-18mm), standards (18-25mm) and large (25-30mm).

They are a good species of cricket for customers receiving orders by courier or Royal Mail in winter, as they can tolerate lower temperatures than the 2 brown species of cricket. As with any insect, proper supplementation should be given prior to feeding to your reptile.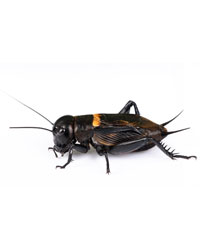 Product
RRP
Our Price
Amount
Add to basket
People who bought 'Black Crickets Large 25-30mm' also bought...
Customer Reviews for:- Black Crickets Large 25-30mm
Overall Rating: 5 Stars

Bradley Watson

23-02-2023
Verified Purchase
Another great product for my larger tarantulas and scorpions

Pros:
Great size

Cons:
None that I can think of
Christopher stones

20-05-2022
Verified Purchase
Everything is good from blue Lizzard reptiles

Pros:
All good

Cons:
All good
Ryan Clark

04-09-2021
Verified Purchase
Packaged well, no escaped, plenty of crickets and fast delivery.

Pros:
Packaged well plenty of crickets

Cons:
I didnt realise they where chirpers I thought they was silent lol my mistake.
matty smart

10-02-2017
Verified Purchase
Great price. good quality.