Monkfield Terranium Oak Medium 24 Inches
Ground breaking design for ground dwelling reptiles.

Perfect for nocturnal species such as Leopard Geckos, Corn Snakes and many more.

Simply slide the heat mat between the glass at the back of the tank, and attach to a thermostat.

Easy access for thermostat probe.

Insulated base projects heat into the terranium.

Available in 3 colours and 5 sizes.

Dimensions: 24 x 8 x 15 Inches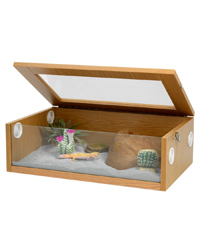 Product
RRP
Our Price
Amount
Add to basket
People who bought 'Monkfield Terranium Oak Medium 24 Inches' also bought...
Customer Reviews for:- Monkfield Terranium Oak Medium 24 Inches
Overall Rating: 5 Stars

M Wright

27-05-2020
Verified Purchase
Well packaged, efficient design, ideal for terrestrial species, 'Sun roof' is ideal for viewing & allowing even light distribution across the length x depth of the terrarium. Adequate ventilation, secure locks at either end of the hinged lid with overall sturdy construction. Recommend the taller version if using deep substrate.
Amy Hewstone

28-02-2017
Verified Purchase
There was a a few problem upon delivery and when we contacted them the problem was sorted and replaced. Very good service and very lovey phone staff too!