Juwel Tortoise Home Paula
This polycarbonate shelter can be used to provide a warm retreat for your tortoise during cooler weather, enabling them to warm up and so extend the season where they can be kept outdoors.

Each Tortoise Home is packed with special features:

Made from strong twin wall polycarbonate which is light but very strong.

Specialist polycarbonate which allows 80% of UVB to pass through at the critical 280-315nm wavelengths.

Sliding roof to allow complete control over the ventilation Strong, steel mesh located under the sliding roof to provide protection from predators even when the roof is open.

Swing door to allow the tortoises to move in and out.

Special locking mechanism on the door allows the swing direction to be set so that tortoises can push the door open to get out but cannot get back in, or the other way round so that they can only get into the home but cant get out again.

Door can also be locked open, or locked shut.

Strong extruded aluminium frame.

The generous 0.75 Sq. Meter size can be enlarged by using the special extension units.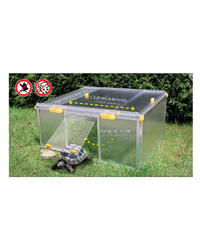 Product
RRP
Our Price
Amount
Add to basket