Exo Terra Glass Terrarium Nano Tall 20 x 20 x 30 cm
The Exo Terra Glass Terrarium is the ideal reptile or amphibian housing designed by European herpetologists. The front opening doors allow easy access for maintenance and feeding. A specially designed lock will prevent escape and the doors can be opened separately. The full screen top ventilation allows UVB and infrared penetration, and is completely removable for easy access while decorating or cleaning. In the back of the screen cover are 5 closable wire or tube inlets on both sides to install Heat Wave Rocks, Waterfalls, sensors, etc. inside the terrarium. The bottom plate of the terrarium is raised to mount a substrate heater to heat a part of the extended ground surface. The extra high fixed front window is ideal for thick layers of substrates (burrowing reptiles), aquatic parts (paludarium) or to mount an Exo Terra reptile den. The natural background is in the same colour like all other Exo Terra decoration items (Water Dishes, Waterfalls, Heat Wave Rocks, etc.) and provides an extra climbing dimension.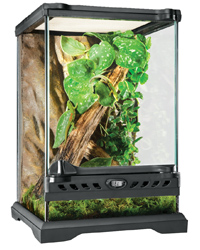 Product
RRP
Our Price
Amount
Add to basket
People who bought 'Exo Terra Glass Terrarium Nano Tall 20 x 20 x 30 cm' also bought...
Customer Reviews for:- Exo Terra Glass Terrarium Nano Tall 20 x 20 x 30 cm
Overall Rating: 5 Stars

Rachel Broad

06-05-2020
Verified Purchase
Excellent service - just what I needed, packaged well & with quick delivery. Great prices for products that would otherwise be really expensive! Will definitely shop here again.