Zoo Med Natural Box Turtle Food 567g
Zoo Med Natural Box Turtle and Tortoise Food combines the ease of a prepared food with the natural goodness of a fresh diet to give your Turtle or Tortoise the goodness he needs to stay a healthy and active animal. Ingredients include papaya, mango and animal protein to ensure all your Turtles nutritional requirements are met.

Vitamins and minerals are added, but artificial colours, flavourings and preservatives have been left out to create a healthy and naturalistic food. Zoo Med Box turtle and tortoise food also provides the ideal fibre, protein and calcium levels required for shell and bone growth.

Use along with fresh foods for the best possible combination for your turtles diet. Zoo Med foods are also very useful to leave with pet sitters if you are going on holiday as an easy to prepare complete food.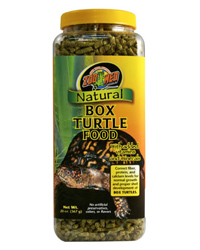 Product
RRP
Our Price
Amount
Add to basket
People who bought 'Zoo Med Natural Box Turtle Food 567g' also bought...