HabiStat Crested Gecko Diet Banana and Cricket 60g
Brand New Crested Gecko Diet. No artificial colourings, flavourings or added preservatives or fillers. Over 20% real fruit, 9 Key protein sources. For all Fruit and insect eating reptiles, including Rhacodactylus, Phelsuma, many other Geckos, Anolis, Lacertids, Skinks and Iguanids. Many reptiles are opportunistic feeders and eat both animal and fruit and vegetable matter. Often captive reptiles are exposed to a very restrictive diet. Composition. Key components only listed. Strawberry, Spirulina, Honey, Bee Pollen, Brown Rice Protein, Pea Protein Isolate, Egg White, Spinach, Fish Oil, Salmon Oil, Soy Protein, Seaweed (Ascophyllum nodosum), Yeast, Medivet Reptavite mineral and vitamin mix, Turmeric, Paprika, Cardamom, MALTODEXTRIN, Marigold flower, Chamomile flower, Pectin, Natural flavouring.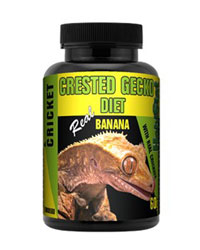 Product
RRP
Our Price
Amount
Add to basket
People who bought 'HabiStat Crested Gecko Diet Banana and Cricket 60g' also bought...
Customer Reviews for:- HabiStat Crested Gecko Diet Banana and Cricket 60g
Overall Rating: 4 Stars

Tracey Bickell

16-12-2017
Verified Purchase
My gecko absolutely loves this and she is generally a real fussy eater