Practical Pet Series - Amphibians
Here at last is a detailed guide to keeping amphibians, extending to 100 pages and illustrated with striking colour photography throughout.

It covers frogs, toads, newts and salamanders, focusing on the most widely kept groups such as fire salamanders, dart frogs and fire-bellied toads.

The expert text provides a comprehensive overview of the care and breeding of such creatures.

It will prove to be an invaluable reference, whether you are just starting out, or are already an experienced amphibian keeper.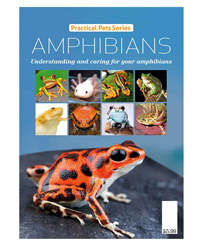 Product
RRP
Our Price
Amount
Add to basket
People who bought 'Practical Pet Series - Amphibians ' also bought...