Blue Lizard Reptiles is one of the largest reptile stores on the internet, and also have a large shop in South Yorkshire. We aim to provide the widest range of reptile products at great value prices.
We sell a vast range of reptiles, amphibians and invertebrates, along with products specifically designed to meet your reptiles needs, including reptile vivariums, reptile books, livefood, frozen food, vivarium substrates, plants, thermostats, thermometers, UV bulbs, heat bulbs, heat mats and vitamin and mineral supplements.
If you can't find what you need on our site, please email us, and we'll be happy to source it for you at our usual low prices.
Top Quality Livefood only £1.59 a tub!


Amazing value and quality! Delivery only £3.99 for livefood orders!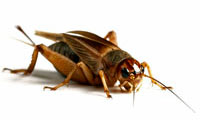 Why not visit us in store?
Why not visit our amazing reptile store in Dinnington, South Yorkshire? Just 5 minutes off the M1 and M18 we have lots of reptiles, amphibians and invertebrates in store as well as a wide range of starter kits, vivariums plants, hides, substrates, thermostats, vivarium decor, livefoods, frozen foods and lots more in stock at fantastic prices.
Featured Products
Locusts Bulk Bag 50 Adult
Locusts (Schistocerca gregaria) have surged in popularity over the past 5 years, and are a popular choice for Bearded Dragon keepers.


RRP - £19.15
Our Price -
£10.89
(inc.VAT)
Exo Terra Glow Light Small
The Exo Terra Glow Light gives you versatility when placing heat and/or light sources. It is sturdily made, with a heat resistant ceramic socket.


RRP - £25.79
Our Price -
£15.89
(inc.VAT)
HabiStat Basking Spotlamp 150w Bayonet
Use to create a basking area of high, localised heat.


RRP - £6.64
Our Price -
£5.31
(inc.VAT)